Events & Events Archive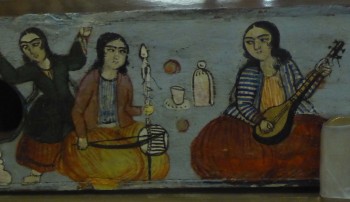 Musical Instruments Unwrapped:
Monday 12th November, 2018
A Joint Conference of the Social History Curators Group (SHCG) and the Musical Instruments Resource Network (MIRN) to broaden perspective and deepen understanding on how to tell social histories through musical instruments.
Venue
St. Cecilia's Hall, University of Edinburgh, 50 Niddry St, Edinburgh EH1 1LG
St Cecilia's Hall is Scotland's oldest purpose-built concert hall. Originally built by the Edinburgh Musical Society in 1762, the Georgian venue is a real hidden gem, tucked away in the heart of Edinburgh's Cowgate.

About
This day-long seminar (including a networking breakfast) is for museum and heritage professionals seeking new ways to interpret musical instruments, exhibit sound in exhibitions and consider the wider use of collections to be more inclusive.
The diverse range of speakers will provide insights into the role and uses of musical instruments in collections today and provide attendees with an opportunity to connect with the Musical Instruments Resource Network.
Programme (subject to change)
Networking Breakfast: 08:30-09:15
Welcome and Intros 09:00 - 09:15
All presentations are 20 minutes long followed by 10 minutes for questions/discussion
Session I: 09:15 – 11:15
Inside Museums: Inspiration and Aspiration
09:15-09:45 Keynote: Gabriele Rossi Rognoni, (Chair of Material Culture and Music, Curator, Royal College of Music Museum, London)
Preserving Functionality: Keeping Objects 'Alive' in Museums?
09:45-10:15 Tim Corum & Margaret Birley (Horniman Museum and Gardens, London)
Music in the Making, developing new contexts of engagement with musical instruments
10:15-10:45 Alice Little (Bate Collection, Oxford)
The Anthony Baines Archive at the Bate Collection of Musical Instruments
10:45-11:15 Holly Trubshawe (Kingsbridge Cookworthy Museum, Devon)
WH Squire and the missing cello
Break – 11:15 – 11:30
Session II: 11.30-13.00
Historical Networks and Social Status
11:30-12:00 Simon Waters (Queen's University, Belfast/Orpheus Institute, Gent)
Networks of connection and continuity in woodwind design and manufacture
12:00-12:30 Ashley Solomon (Royal College of Music, London)
The extraordinary 'royal flute' – a musical instrument or work of art?
12:30-13:00 Arnold Myers (Royal Conservatoire of Scotland, Glasgow)
The Salvation Army as Instrument Maker
Lunch - 13:00 – 14:00 (Delegates will have the opportunity to see a pre-recorded 20-minute presentation by Kathleen Wiens (Curator, The Canadian Museum of Human Rights, Winnipeg) entitled: Anti-Apartheid made audible: a case study of exhibition soundscape and visitor experience)
Session III: 14:00 – 15:30
Exhibiting Sound – Using Acoustic and Digital Media
14:00-14:30 Laura Kinnear (Holst Birthplace Museum, Cheltenham)
Gustav Holst's Piano – Interpreting the museum's 'star object'
14:30-15:00 William Quale (Independent Researcher, Massachusetts, USA)
Musical instruments carried to the Great War – portraying concertinas and mouth organs in museum collections
15:00-15:30 Martin Perkins (Royal Birmingham Conservatoire, Birmingham)
Digitized Musical Instrument Sample Libraries and User Interfaces in Heritage Properties and Museums
Break – 15:30 – 15:45
Session IV: 15:45 – 16:45
Working Towards Representation and Inclusion
15:45-16:15 Verena Barth (Ringve Music Museum, Trondheim, Norway) Representations of Masculinity in the Context of the Trumpet
16:15-16:45 Joe Sullivan (Natural History Museum, London)
Music and Partnership working with Young People in the Community

END
17:00-17:30 MIRN AGM, an agenda will be circulated in advance to MIRN members

Book your place
£40 MIRN & SHCG institutional members
£35 MIRN retired, students or unwaged / SHCG individual
£50 non-members
Fee includes a networking breakfast, lunch, refreshments and copies of presentations where applicable.
To book your place, please fill in this form by 12th October https://goo.gl/forms/wIDXWUVYGAnlla4D2
Free place
There is a FREE PLACE available for a SHCG member who has not attended a SHCG seminar before. Please fill out the form (below) and send it to shcgseminar@gmail.com by 5PM on 10th October 2018.
Image: (c) Horniman Museum & Gardens