News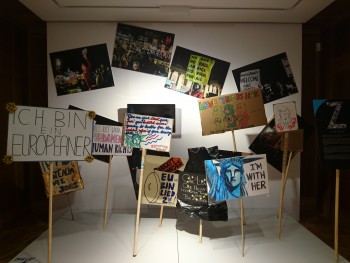 Call for papers: SHCG 2018 annual conference
A True Reflection? Displays, stories and exhibitions
Venues: Beamish: The Living Museum of the North and Great North Museum: Hancock
Dates: Thursday 19th and Friday 20th July 2018
Call for contributions, papers, workshops, roundtable discussions and other presentations on the theme of: Displays, interpretation and exhibitions in social history museums
Guidance on topics for discussion
The ways in which we display objects and interpret stories are at the heart of social history in museums. In an era of diminishing budgets and growing workloads, museums and heritage organisations are under increasing pressure in this area of work.
How can collections be used to attract and engage ever more visitors and wider audiences?
In what ways can collections be interpreted where there is a lack of relevant specialist knowledge?
What are the challenges of broadening the audiences whose experiences are not included in our displays, and how can we overcome these?
How do we as museum and heritage professionals refresh outdated or tired displays quickly and with minimal budget?
Social History Curators Group (SHCG) invites you to share your innovative ideas, experiences of trying to do things in new ways, successes, opportunities and failures.
Some example ideas are below:
Interpretation: How can stories be told in new and innovative ways? Have you created or carried out a project on a limited budget?
Collections and Display: What new ideas and ways of ensuring collections care standards are maintained have you implemented whilst developing a display/exhibition? Does your collection use objects in a unique way to be engaging?
Inclusion: Does your organisation engage with and represent different communities in exhibitions? If so, how? Have you explored or engaged with particular communities that you'd like to share with other professionals?
The quick-fire round!
Returning for 2018 is the quick-fire round.
SHCG invites 6 delegates to each present a 3-minute summary on their project relating to the subject, the challenges it presented, how you approached them, and ultimately the outcome of the project.
Following the presentations, all 6 speakers will then facilitate group discussions which will aim to give delegates practical advice and guidance on how to (or how not to) tackle issues in different areas of museum practice and at different career levels.
If you think you have an interesting idea to submit, please complete the application form at the end of this document.
2018 Conference
This year, SHCG is looking for presentations, talks or concepts that relate to the topics outlined above. The more thought provoking, unusual, practical and insightful the better.
If you have an idea that you think might be appropriate for this conference, please submit it as we'll read and review every application. Insights into how others are working, their successes, their challenges and best practices can be of benefit to many others within the wider museum and cultural community.
Contributors are invited to offer perspectives from a local, national, international or global context. Contributions that are presented in a different way, either interactive or through discussion, will be considered. SHCG is keen to accept more contributions that stem from thinking 'outside of the box' and will allow delegates to reflect on and think about Social History curation and its future.
Important dates
Please complete the submission form below and return it to Nick Sturgess and Rebecca Lucas by 31st January 2018.
All applicants will be notified of the Conference Organisers' decision by 21st February 2018.
You can find further information, terms and conditions and the submission form in the document below:
Download SHCG_Conference_2018_Call_for_Papers_2.docx...